Annual Newsletter of the Slavic Research Center, Hokkaido University

SRC Home

No.11 , December 2003

back to INDEX>>
Essays by Foreign Fellows
I Feel Like a Child in a Candy Store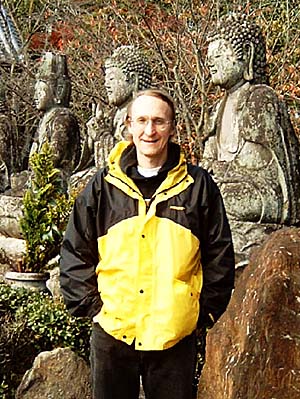 The author in front of Buddhist statues
(Alabama State University, Foreign Fellow, SRC, 2003-04)

---
First, a bit about weather and landscapes. I will use this convenient cliché to get me going, for I always have trouble with introductions. So, thus we begin. The setting is Sapporo. The time of year is early November. Although snow did not come yet, days are getting shorter. Still, autumn gives us occasional gifts of sunny days. In the States they call this season an Indian Summer. Before I began my romance with history and ethnology in 1980, I was a photographer and came to appreciate autumn. To the present day, for me this time of a year is precious. As soon as a wind begins to toss around the cavalcade of green-yellow-purple leaves, I take my camera and go out to capture in black and white (my favorite color combination) surrounding city and nature landscapes: sunsets, clouds, a branch of a tree from one angle or from another, a peculiarly curved leaf or an empty street with a few half-naked trees. So it goes here in Hokkaido: when I have time, I indulge myself in these "photography games."
Under other circumstances, by coming to Japan in search of chrysanthemums, gorgeous sunsets, Zen Buddhism, or other enchanted existent and non-existent romantic tropes, I might have made a perfect tourist. Yet there is something else that attracts me in Sapporo, which reduces my interactions with local landscapes and cultural landmarks to a minimum. These pleasant attractions, which fascinate and lure me more than anything else, are the wonderful resources of the Slavic Research Center (SRC) and Hokkaido University Library Special Collections, the ideal setting to pursue my project that deals with indigenous shamanism in northern Eurasia. Specifically, I am interested in how Russian and Western writers, ethnographers, missionaries, and travelers reflected on indigenous spirituality in Siberia. SRC/Hokkaido University collections have marvelous books on Siberia and indigenous religions of Asia in various languages. There is also a large microfilm collection of Russian newspapers and magazines, including some obscure periodicals, which are hard to find in other libraries. The first week of my stay I spent learning about the library system and picking up the books, which I could not get in the States because they were "hidden" in rare book collections. I lovingly fondled the pages of some old editions and happily breathed in their musty smell. Much of the literature I work with was published in the eighteenth and nineteenth centuries. I was pleasantly stunned that the university library allows me to check out German and Russian books published as early as the eighteenth-century! The third day of my stay in Sapporo I fell asleep in my bed holding the 1774 Russian edition of
Descriptions of All Nations of Russian Empire
by Johann Georgi, a famous Enlightenment observer of Siberia. "Traveling" through the Hokkaido University book and microfilm collections, I feel like a child in a candy store.
By the time of my arrival to Sapporo, I still had two unfinished book projects, which are also related to my SRC project and which are under contract with publishers:
Shamanism in Siberia
and a three-volume anthology
Shamanism: Critical Concepts in Sociology
. I came to Sapporo with a desire to make the most of my time here, but I was torn apart with a dilemma of what to start with: with researching the university Siberian collections or finishing the book projects. Eventually, I had to reconcile myself to the idea that I would have to simultaneously work in both directions. Thus, until now my day usually starts at 8:30AM and ends at 10PM with a one-hour interlude for jogging and exercising to warm my "rusty" body. Each day when I leave for home at night, I still see lights in some offices. Nice to know that I am not the last one. In fact, some of my Japanese colleagues at the center prefer to work at night. Indeed, this is a reasonable option: nothing and nobody distracts you from work at night. Although this "night" solution looks appealing to me, I still have to consult my wife about this.
Although I accomplished a lot in the past five months (
Shamanism in Siberia
is scheduled to be published this December, an article was submitted to
American Historical Review
, and three nineteenth-century Siberian periodicals are completely seeded for all relevant information on shamanism), I come to a realization that nine months might not be enough to go through the rest of the Siberian-related book and microfilm collections. Yet deep inside there is also a realization that no matter how much time one will get, it will never be enough. This time anxiety most probably comes from the nature of my work back in the States. I teach on a daily basis at a four-year metropolitan university. My normal teaching load is four courses per semester. This does not usually leave too much time for reading and writing. When you do try to pursue research, your family has to make large sacrifices. That is why I view these nine months of the fellowship bestowed on me by SCR as a blessing. Think about it: nine months of a totally free time for reading and writing! To me this sounds like a dream. Who knows --- I might not get again such a luxurious opportunity in the future. I feel that I am turning into a self-control freak constantly asking myself at the end of a day, "How much did you do today," and when it seems I did not do enough I feel depressed. My wife and son save me from going insane. Saturdays and occasionally Sundays are reserved for the family. That is when I take my black and white snapshots I mentioned in my "decorative" introduction. Although I did not see too much of Japan outside of Sapporo, I did have several brief memorable encounters with the country. One was during my recent conference trip to Osaka, when I had a chance to peruse old Zen and Shinto temple architecture. Another took place during my trip to Ainu villages in the company of Professor Koichi Inoue, the Senior Ethnologist at SRC. The third one was a trip to Otaru hosted by Professor Osamu Ieda, our Director. It is too early at this point to unfold the whole canvas of my impressions of Japan. I am still absorbing and digesting them. For example, next week I plan to visit Japanese traditional shamans,
itako
, which incidentally is also related to my SRC major project. I am sure that this venture will bring bright new impressions. So the full assessment of what I learned and saw will surely come later, after I return to the States and gradually process my observations. Then I will be able to compose some generalized picture where truth and imagination, fact and fiction will be freely intertwined as usually happens in all travelers' tales.