Grant-in-aid for Scientific Research on Innovative Areas "Comparative Research on Major Regional Powers in Eurasia" Got an "A" in the Interim Evaluation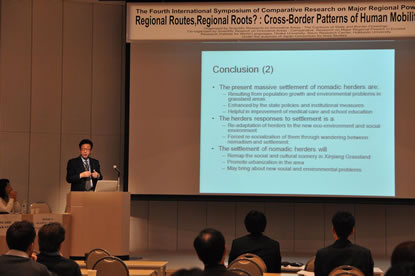 One of the presenters from China at the fourth international symposium in Osaka (Dec. 12, 2010)
As this five-year project was entering its third year, in August and September of 2010, there was an interim evaluation made by the expert committee established by the Ministry of Education and Science. Our project was rated "A." We were satisfied with this evaluation, although we were aiming for an "A+."
This year, we organized two international symposiums. One was held last July in Sapporo organized by a research group investigating cultural comparison headed by Prof. Mochizuki Tetsuo. Its title was "Orient on Orient: Images of Asia in Eurasian Countries." The other was held in December in Osaka arranged by a research group studying comparison of societies in regional powers. Its chief organizer was Prof. Yamane So of Osaka University and its title was "Regional Routes, Regional Roots? Cross-Border Patterns of Human Mobility in Eurasia."
This year we organized a number of panels at international conferences held abroad, including the World Congress of the International Council for Central and East European Studies (Stockholm in July), Bi-Annual Conference of the European Association for Comparative Economic Studies (Tartu in August), and Annual Convention of the Association for Slavic, East European, & Eurasian Studies (Los Angeles in November). We feel that there is growing interest in our project from the international community of Slavic Eurasian studies.
TABATA Shinichiro