[Event] International Symposium in Fukuoka "Contesting Territory: Sovereignty, Tourism and Aesthetics"
Time & Date:

November 23

, 2015 (Mon), 13:00-18:3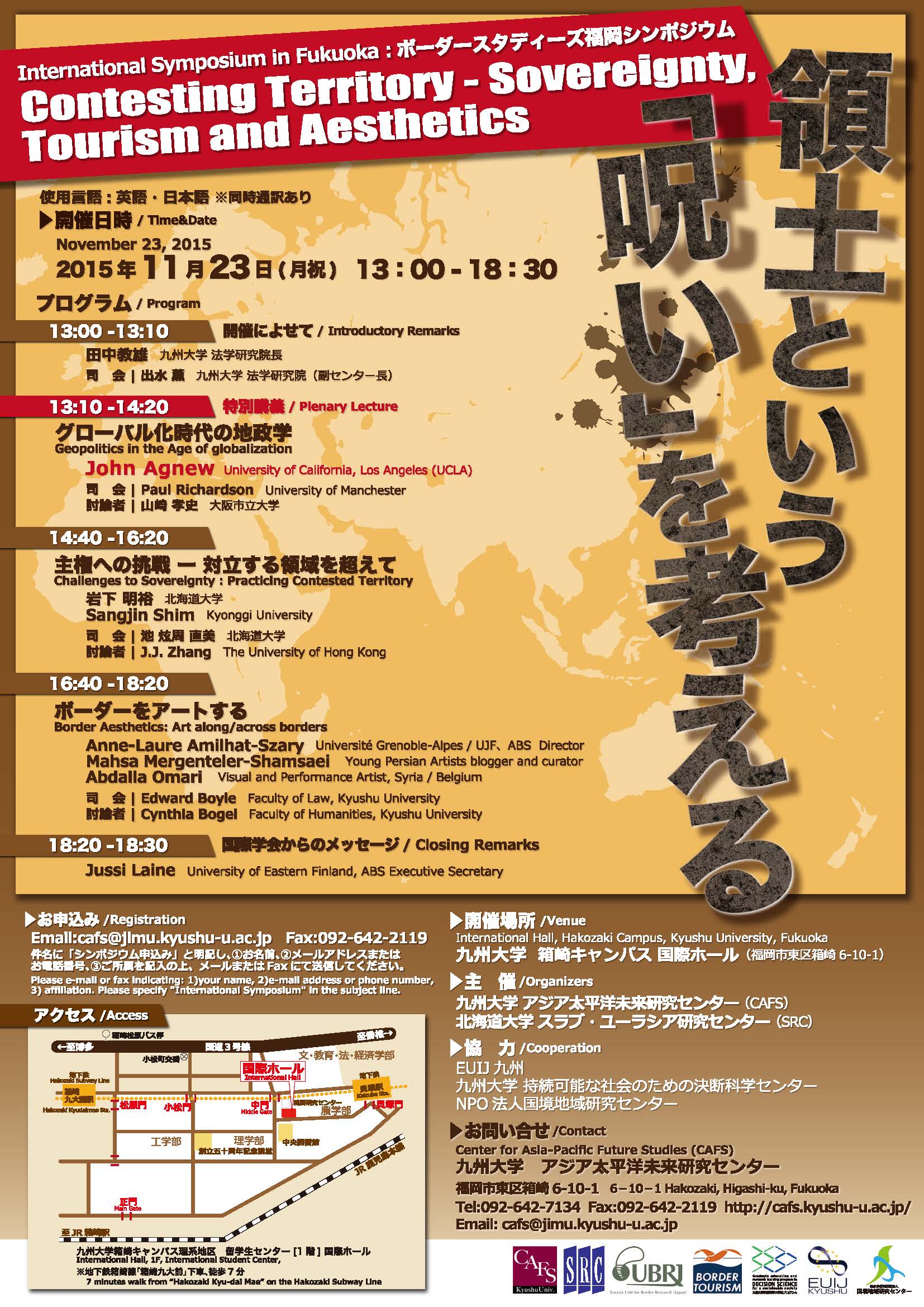 0
Venue: International Hall, Hakozaki Campus, Kyushu University
 (https://www.kyushu-u.ac.jp/access/map/hakozaki/hakozaki.html Bldg. No. 55 is "International Hall.")

Program:
 13:00-13:10 Introductory Remarks
  Norio TANAKA (Fuculty of Law, Kyushu University)
  Chair: Kaoru IZUMI (Center for Asia-Pacific Future Studies (CAFS), Kyushu University)
 

13:10-14:20 Plenary Lecture "Geopolitics in the Age of Globalization"




  Special Lecturer: John Agnew (University of California, Los Angels)


  Chair: Paul Rechardson (University of Manchester)
  Discussant: Takashi YAMAZAKI (Osaka City University)
 14:40-16:20 Panel Session "Challenges to Sovereignty: Practicing Contested Territory"
  Speakers: Akihiro IWASHITA (SRC/UBRJ, Hokkaido University)
         Sangjin SHIM (Kyonggi University, South Korea)
  Chair: Hyunjoo Naomi CHI (Hokkaido University)
  Discussant: J.J. Zhang (The University of Hong Kong)
 16:40-18:20 Panel Session "Border Aethetics: Art along/across Borders"
  Speakers: Anne-Laure Amilhat-Szary (University of Grenoble-Alps/Joseph Fourier University,
         ABS Director)
         Mahsa Mergenthaler-Shamsaei (Young Persian artists blogger & curator)
         Abdalla Omari (Visual and performance artist, Syria/Belgium)
  Chair: Edward Boyle (Faculty of Law, Kyushu University)
  Discussant: Cynthea Bogel (Faculty of Humanities, Kyushu University)

Working language: English & Japanese with

simultaneous interpretation



Co-hosted by CAFS, Kyushu University & SRC, Hokkaido University
Cooperated by EUIJ Kyushu; Center for Decision Science for A Sustainable Society, Kyusyu University;

          NPO Japan Center for Borderlands Studies (JCBS)
Persons interested in participation in the symposium should register themselves beforehand by E-mail to

cafs[at]jimu.kyushu-u.ac.jp

or fax to

092-642-7374

.