Call for papers from the 9th East Asian Conference Organization Committee (MACEES). The deadline for application is 2 March!
The 9th East Asian Conference on Slavic Eurasian Studies will be held 30 June-1 July, 2018 in Ulan Bator, Mongolia!
The Call for Papers will be coming soon.
BASEES Annual Conference 13-15 April 2018
The 2018 conference coincides with the 50th anniversary of the Prague Spring. The deadline for panel/roundtable proposals is 30 September 2017, and 16 September 2017 for individual paper proposals. 
http://www.basees2018.org/
The website of ICCEES has been redesigned!
http://iccees.org/
World congress 2020 will be held 4-9 August, 2020 in Montreal.
The 8th East Asian Conference on Slavic Eurasian Studies was successfully closed (3-4, June, 2017 in Chunb-Ang University, Seoul) Around 20 participants from Japan enjoyed the conference!
Call for Papers The Asian Arc of the Russian Revolution: Setting the East Ablaze? 16-17 November 2017, Singapore
Deadline of abstract submissionis 15 June 2017.
---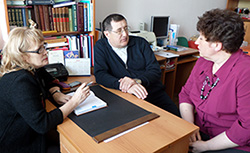 The Establishment of the Kazakhstan Association of Eurasian, Russian and Central Asian Studies
Slavic Eurasian specialists in Kazakhstan established their national association named the Association for Eurasian, Russian and Central Asian Studies! 
>>>>Read more
---
Care message from Prof. Graeme Gill concerning the recent earthquake
We received a heartwarming message from Professor Graeme Gill of the University of Sydney, current president of ICCEES, concerning the recent earthquake that hit Japan on March 11..
---
Dear Kim (Matsuzato)

On behalf of the ICCEEC Executive Committee and all of the members of ICCEES, I would like to express our deep sadness and dismay at the terrible cost Japan has been forced to bear as a result of the recent earthquake and tsunami. In particular, we would like our Japanese colleagues to know that we are thinking of them in this difficult time, and that if there is anything we can do to help them get back to normal, they only have to let us know. We would appreciate it if you would pass on our best wishes to your colleagues.
With best wishes,
Graeme Gill
Professor of Government and Public Administration,
Department of Government and International Relations,
School of Social and Political Sciences,
Faculty of Arts and Social Sciences,
University of Sydney