Annual Newsletter-->no.19
Global COE Program "Reshaping Japan's Border Studies"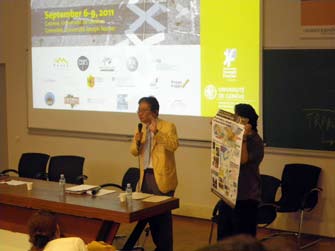 Prof. Iwashita's calling for hosting the next BRIT Conference (BRIT XI, Grenoble)
The Global COE Program "Reshaping Japan's Border Studies," a five-year term program approved in July 2009, has passed the halfway point.
1) Organizing a Border Studies Network in Japan One of our tasks is to create a border studies network in Japan that would unify fragmented individual researchers working on border-related topics in any area to the forum and develop collective works in a conscious theoretical framework of border studies. For this purpose, our GCOE Program organized the Yonaguni and Taiwan Seminars (May 14-15, 2011) supported by the Japan Society of Island Studies, the Northern Regions Center, and the Sasakawa Peace Foundation. It is worth mentioning that a charted plane flew the participants to Taiwan for the Taiwan Seminar. Thanks to similar activities, it seemed to us the ripe time to expand our network horizons. To that end, the Japan International Border Studies Network (JIBSN) was established in November, 2011. Currently, fourteen member organizations such as Tsushima City, Nemuro City, and any other border local governments as well as research institutes are listed.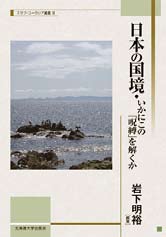 Japan's Borders: How to Break the "Spell"
(Hokkaido University Publishing, 2010)
As for the contribution to the worldwide border studies network, young researchers of the GCOE are active participants in the international network on border studies, including ABS and BRIT XI, for example. This is an important step in raising the appeal to conferences worldwide such as BRIT 2012. We are now preparing for a borderland symposium that will take place in November 2012 under the auspices of the prestigious Border Regions in Transition (BRIT) Conference. See the following URL for more details: http://www.borderstudies. jp/brit2012/top.html
2) Winning one of the 24th Regional Publishers Cultural Achievement Awards Japan's Borders: How to Break the "Spell" (『日本の国境・いかにこの「呪縛」を解く か』), edited by Prof. Iwashita and published by Hokkaido University Press, received the 24th Regional Publishers Cultural Achievement Awards. This award is sponsored by Tottori Prefecture and was first held in 1987, and is open to regional publishers from throughout Japan. This book was issued in 2010 and is in fact the first academic achievement of our GCOE Program. The prize money was donated fifty-fifty to the Etupirka Libraries on Yonaguni and Tsushima, respectively.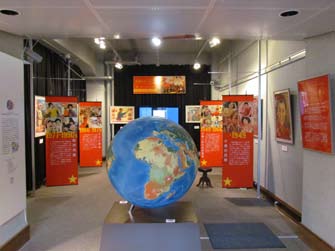 The sixth exhibition of the GCOE program:
"China Seen from Across the Border"
3) Museum Exhibition This year, we held three exhibitions at Hokkaido University Museum: "The Indigenous People (Yaqui and Ainu) and the Border" (Nov. 2010 - May. 2011), "Languages Go Beyond the Borders: Russian and East European Writers'Work and World" (May. 2011 - Nov. 2011), and "Spillover Images: China in the Media" (Nov. 2011 - May 2012). Serial seminars were also held along with the exhibitions. The exhibitions and seminars were open to the public and attracted many citizens.
Fujimori Shinkichi
Speakers at the GCOE Symposium
"Weaving the Borders Together: Network between Japan and the World" (November 25-27, 2011)
Kanto Yoshitada (Bukkyo University, Japan), "The Relationship between Chronicles about Batara Indra and Climate Change in Indonesia: Consciousness to the Blessing of the Water by Balinese across Time"
Mineta Shiro (Waseda University, Japan), "Politics of Scale in the Water Security: Impact from China in Greater Mekong Sub-region"
Doi Yasuhiro (Nagoya University, Japan), "Case Study of Cross-Border Labors: A Tri-national Border Region: Oberrhein"
Jussi Laine (University of Eastern Finland), "Seeing Like a Border? Conceptualizing a Cross-border Space for Social Contracting through Civil Society Organizations"
Tony Payan (University of Texas at El Paso, US), "Theory-Building in Border Studies: What the Borders of North America Have to Teach Us"
James Scott (University of Eastern Finland), "Observations on European Border Studies: The Concept of Bordering in Theoretical and Practical Terms"
Ishikawa Noboru (Kyoto University, Japan), "Between Frontiers: Nation and Identity in a Southeast Asian Borderland"
Carl Middleton (Chulalongkorn University, Thailand), "Conflict, Cooperation and the Trans-border Commons: The Controversy of Mainstream Dams on the Mekong River"
Duncan McDuie-Ra (University of New South Wales, Australia), "Beyond Greed and Grievance: The Northeast Borderland in Contemporary India"
Sorin Sok (Cambodian Institute for Cooperation and Peace), "A History of Cambodia and Engagement from Power Countries"
Haim Yacobi (Ben Gurion University of the Negev, Israel), "The Geopolitics of a City-Borders, Boundaries and Frontiers in Jerusalem"
Emily Makas (The University of North Carolina at Charlotte, US), "The Boulevard and the Central Zone: Divided Mostar's Border Lines and Spaces"
Stephen Royle (Queen's University Belfast, UK), "Divided Islands: The Case of Ireland"
Yara Tomohiro (Okinawa Times, Japan), "Exploring Solutions to the US Military-Base Issues in Okinawa"