Our Mission
First, the SRC would like to invite already established but fragmented individual researchers working on border-related topic on any area to a united forum and develop collective works in a conscious theoretical framework of border studies and, possibly, create a Japan Association of Border Studies in the foreseeable future. Border studies itself is not well matured yet and needs a solid foundation for integrating fragmented regional facts. The urgent task at hand is to find and identify a theoretical tool to compare different strokes. Without this process, border studies, though the materials are rich and suggestive, will become meaningless.
Second, Eurasia and East Asia, particularly Russia and China, have been a vacuum of the °»international°… community on border studies. The SRC found and identified many border-related topics in the above area and realized that quite a few on-the-site researchers have activated their works. However, this untapped source of expertise is rarely shared with the outside, particularly, with western scholars. Two reasons are accounted for this °»non-discovery°…: linguistic barriers (most resources are not available in English) and political barriers (too delicate for study in the former communist borderland). Even the Association for Borderland Studies (ABS) based in the US, the International Boundary Research Unit (IBRU) based in the UK and the Border Region in the Transit (BRIT), the largest international network on border studies, rarely cover the field for reference. Although the program leader, Akihiro Iwashita, has endeavored to introduce these rich sources of border-related expertise to the international research community, organized contributions from the SRC-led program must be more vocal and critical. The SRC will fulfill its aim and objectives using the rich resources of the international networks it has developed over the past five decades.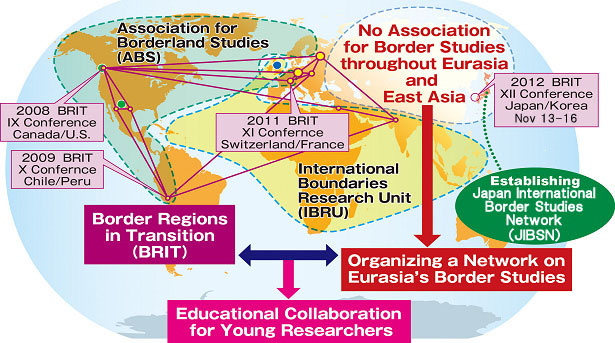 Third, the program puts an emphasis on creating a core of young researchers on border studies by integrating the networks and communities. Most of them, after the five year term of the program, will be encouraged to publish in worldwide periodicals on border issues, such as Journal of Borderland Studies, Boundary & Security Bulletin and Europe-Asia Studies. In other words, this program will concentrate on funding a relatively small number of promising doctoral candidates and post-doctoral researchers, whose talents and devotion are obvious, rather than distributing the funds widely for other purposes. The SRC has also enough experience to encourage younger researchers with some scholarship programs and to educate graduate students in cooperation with the Graduate School of Letters, Hokkaido University. The educational collaboration with the SRC and Graduate School of the Letters will focus on the educational effectiveness of the program.
Finally, our GCOE project will make efforts to offer the results of the research to the policy-making communities for information, so that they could resolve border-related conflicts and stabilize the de/re-borderlization for peace and prosperity of the world community.