About the SRC
Message from the Director
Message from the Director
AKIHIRO IWASHITA
In April 2020, I return to the role of SRC Director, ten years after I last served in this capacity. When I took on the role last time, the serious challenges facing the SRC were the acquisition of large-scale research funding and a restructuring of the Center. At times these problems appeared intractable, but thanks to the support and cooperation of colleagues at the Center and from across Japanese academia, it eventually proved possible to resolve these issues, and ultimately to develop cutting-edge research networks in border studies and comparative area studies.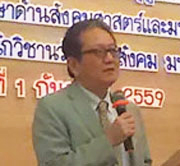 As I return to the post today, we again face a series of crises, this time deeper and more multi-faceted than in the past. The first of these is obvious: the COVID19 pandemic and its ultimate influence over our society. This crisis is open-ended, and still playing out, but while others are more restricted, they are no less serious for our Center. These include the stagnation and reduction in grants available for social science and humanities research, administrative issues stemming from the sidelining of Hokkaido University's President over suspicions of "harassment," and the SRC's own struggles with shortages of funding and personnel following the conclusion of large-scale research projects
Overcoming all of these issues will certainly be a challenge. As one of the foremost area studies research institutes in Asia, it is vital that we redouble our efforts to get through this difficult period in the SRC's history. We look forward to your support and collaboration as we seek to transform these challenges into new opportunities to conduct cutting-edge research and to contribute to the advancement of knowledge and betterment of society.
Akihiro Iwashita
Director of the Slavic-Eurasian Research Center
Hokkaido University
April 2020, Sapporo