About the SRC
International Collaboration
International Collaboration
A
cademic Exchange Agreements
The Center has concluded academic with foreign institutes, including Harvard University, University of Oxford, the Chinese Academy of Social Sciences in Beijing, etc. The Center also took the initiative in concluding academic agreements between Hokkaido University and Sakhalin State University, and with the Far East Division of the Russian Academy of Science in Vladivostok.

Academic Exchange Agreements with Foreign Institutions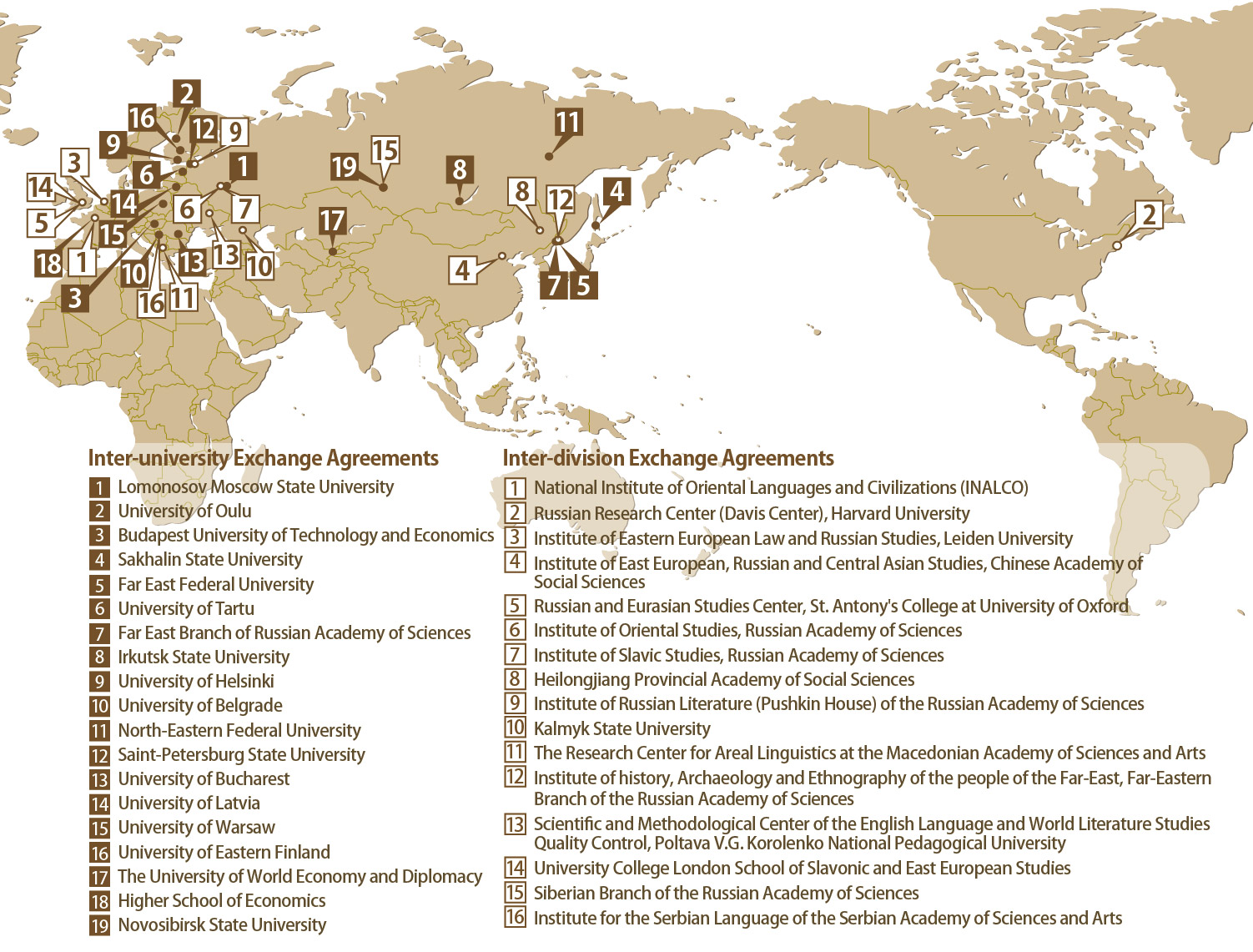 C
ontribution to ICCEES and the East Asia Conference
The center aims to coordinate with related academic associations in China and Korea to form a community of researchers in East Asia, and as a part of such, efforts were made in hosting the 1st Slavic-Eurasian Research – East Asia Conference (Hokkaido University) in 2009. Since then, the East Asia Conference has been hosted in Seoul in 2010, Beijing in 2011, Kolkata in 2012, Osaka in 2013, and again in Seoul in 2014. As a result of the evaluation of such research network of East Asia, the International Council for Central and East European Studies (ICCEES) World Congress in 2015 was held in a non-western country, in Japan (Makuhari, Chiba), for the first time in its history. The center provided extensive support in attracting this meeting and during the initial preparation stage.

F
Foreign Visitors Fellowship Program
n order to enrich the research system and promote international exchange, ever since 1978, the Slavic-Eurasian Research Center has been inviting anywhere between three to six foreign researchers from overseas every year. Their period of stay is either five months or ten months according to regulations. Apart from taking part in research as a member of the center, the foreign researchers participate in the activities of such as joint research and study groups of the center.