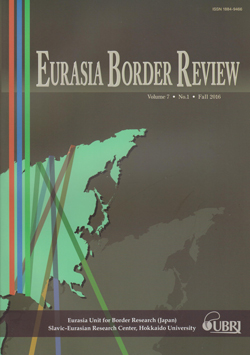 The latest issue of Eurasia Border Review has been published by the Eurasia Unit for Border Research of Japan (UBRJ).


This issue includes contributions from scholars working in universities and research institutes in Japan, India and the United States. The topics addressed include the process of borderization along the Georgia-South Ossetian boundary, the changes to Turkey's border security since the outbreak of the Syrian Civil War and the development of Russia-US relations in the Bering Sea Region. This edition also contains a Special Section on the 'Border and Gender Studies'.


All papers can be downloaded from here.


We are looking for articles and book reviews for the next edition due to be published later this year. If you are interested, please contact the editorial department (j_e_bull[at] slav.hokudai.ac.jp) (replace [at] with @).



Articles


Borderization in Georgia: Sovereignty Materialized
Edward Boyle
Rethinking the Insulator State: Turkey's Border Security and the Syrian Civil War
Kohei Imai
The Russian-U.S. Borderland: Opportunities and Barriers, Desires and Fears
Serghei Golunov


Special Section: Border and Gender Studies


Introduction to "Border and Gender Studies: Theoretical and Empirical Overlap"
Kimberly Collins
Re-victimizing Trafficked Migrant Women: The Southern Border Plan and Mexico's Anti-trafficking Legislation
Guadalupe Correa-Cabrera and Jennifer Bryson Clark
Bad Fences Make Bad Neighbors: Challenging the Citizenship Regime in the U.S.-Mexico Borderlands
T. Mark Montoya
Book Review


Reece Jones, Violent Borders: Refugees and the Right to Move, (Verso 2016). 224pp.
Uddipta Ranjan Boruah