Essays by Foreign Fellows
---
Departure of Professor Shugo Minagawa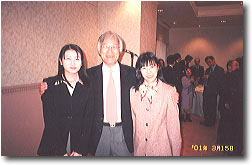 Prof. Minagawa(center)with young SRC satts
at the Farewell Party
Prof. Shugo Minagawa, a leading force within the Slavic Research Center since 1990, has moved to a new post with the Faculty of Creativity and Culture at Aichi Shukutoku University. On Thursday, March 15, prior to his leaving Hokkaido University, he delivered a lecture entitled "My Research on Russia" which was followed by a farewell party at the Aspen Hotel.
The lecture reviewed the basic methodologies used by Prof. Minagawa in his research on Russian politics and made reference to a detailed database cataloging the Russian elite which his efforts made possible. During the party, friends and colleagues took the opportunity to recall past episodes that highlighted Prof. Minagawa's personality, leadership, and sound research principles. Prof. Akira Taguchi of Hokkaido University's School of Law, Prof. Keizo Haiya, former dean of Hokkaido University's Faculty of Letters, and Prof. Yoshiaki Nishimura of Hitotsubashi University were among those taking the stage.
Prof. Minagawa will continue to offer guidance as a special collaborative researcher for the Slavic Research Center.
By K. Matsuzato
---