2019 HOPS-SRC Border Studies Summer School
June 24-28, 2019 @ Sapporo, Japan
[Overview]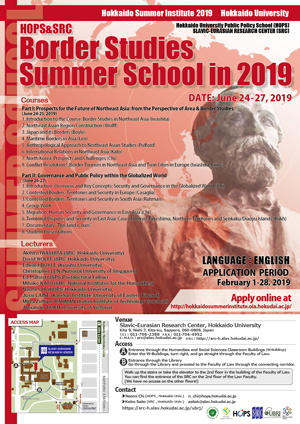 The Graduate School of Public Policy (HOPS) and the Slavic Eurasian Research Center (SRC) at Hokkaido University are delighted to announce the commencement of the border studies summer school (within the framework of the Hokkaido University Summer Institute) which will be hosted in the beautiful city of Sapporo from June 24-28, 2019. The Slavic Eurasian Research Center has hosted the summer school on border studies in the past from 2010 to 2014 as part of the Global COE project "Reshaping Japan's Border Studies." Starting 2016, the border studies summer school is being hosted as part of the Hokkaido Summer Institute, which is a programme that brings together distinguished scholars and our faculty members to provide an educational experience to students from across Japan and around the world. It will allow participants to expand their knowledge on subjects previously open only to students at Hokkaido University.
This year's summer school will be a two part programme which will focus on Northeast Asia in the first half and South Asia and Europe in the second half. There will also be an excursion to the local Ainu (indigenous people of Hokkaido) village and museum. Participants will be asked to attend all of the above as part of the Border Studies Summer School and those who complete the programme will be issued a certificate of completion on the last day of the summer school. Please note that limited number of scholarships will be available for qualified students who meet our criteria (Please refer to the section [scholarships] in the PDF below for more details).
[Programme]
The following is the tentative programme:
Part I: Prospects for the Future of Northeast Asia: from the Perspective of Area & Border Studies (June 24-25, 2019)
1. Introduction to the Course: Border Studies in Northeast Asia (Iwashita)
2. Northeast Asian Region Construction (Wolff)
3. Japan and its Borders (Boyle)
4. Maritime Borders in Asia (Len)
5. Anthropological Approach to Northeast Asian Studies (Pulford)
6. International Relations in Northeast Asia (Kato)
7. North Korea: Prospects and Challenges (Chi)
8. Conflict Resolution?: Border Tourism in Northeast Asia and Twin Cities in Europe (Iwashita, Laine)
Part II: Governance and Public Policy within the Globalized World (June 26-27, 2019)
1. Introduction, Overview and Key Concepts: Security and Governance in the Globalized World (Chi)
2..Contested Borders, Territories and Security in Europe (Casaglia)
3. Contested Borders, Territories and Security in South Asia (Rahman)
4. Group Work
5. Migration, Human Security and Governance in East Asia (Chi)
6. Territorial Disputes and Security in East Asia: Case of Dokyo/Takeshima, Northern Territories and Senkaku/Diaoyu Islands (Bukh)
7. Documentary "This land is ours"
8. Student Presentations
※There will be an excursion to the local Ainu village and museum on June 28. Participants will be asked to pay a fee of 5000 yen (approx. 50 US dollars), to cover costs for transportation and food (lunch).
Lecturers:
Akihiro IWASHITA (SRC/Hokkaido University), David WOLFF (SRC/Hokkaido University), Edward BOYLE (Kyushu University), Christopher LEN (National University of Singapore), Ed Pulford (JSPS Postdoctoral Fellow), Mihoko KATO (SRC, Hokkaido University), Naomi CHI (HOPS, Hokkaido University), Jussi LAINE (University of Eastern Finland), Mirza Zulfiqur RAHMAN (Indian Institute of Technology Guwahati), Alexander BUKH (University of Victoria)
[Application Period and How to Apply]
Application period is February 14-28, 2019. Please download the following PDF for application procedures and other information (PDF).
[Application Form]
Please download the following form (WORD).