Education
Fostering the Development of Young Researchers
To foster the development of young researchers interested in border studies, UBRJ collaborates with JIBSN and Hokkaido University's Reshaping Japan's Border Studies GCOE in order to provide support in terms of networking, exchanging ideas, and promoting international standards of research.
Summer School
With the aim of fostering the development of internationalized young researchers in Japan and involving their overseas counterparts in border studies in Japan, UBRJ runs an intensive course at Hokkaido University's Sapporo Campus every summer. All lectures are given in English, thereby helping to enhance the international communication abilities of young Japanese researchers.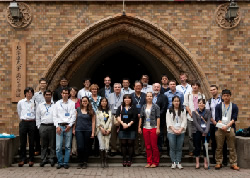 Museum Exhibition
The results of border studies are exhibited in a section of the Hokkaido University Museum to provide a place where people can learn about border issues in Japan and elsewhere. Exhibitions are organized to provide visitors with opportunities to find out about the lifestyles and history of border regions and consider their future in these areas.
Global COE Program "Reshaping Japan's Border Studies,"the preceding project of UBRJ, closed in March 2014, had held ten special exhibitions related to various aspects of border studies at Hokkaido University Museum. A part of these exhibitions are still displayed at the second floor of the Musium. The exhibition is open to the public and entrance is free.

A new phase of the Border Tourism Exhibition is now underway at the SRC-UBRJ booth on the 2nd Floor of the "renovated" Hokkaido University Museum!!