Announcement regarding the 2017 HOPS-SRC Border Studies Summer School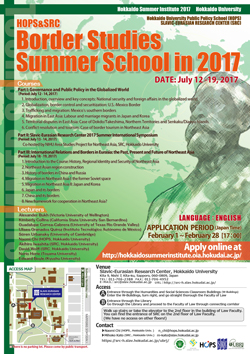 July 12-19, 2017 @ Sapporo, Japan
Application period: February 1 (00:00 JST) ~ 28 (23:59 JST), 2017

The Graduate School of Public Policy (HOPS) and the Slavic Eurasian Research Center (SRC) at Hokkaido University are delighted to announce the commencement of the border studies summer school (within the framework of the Hokkaido University Summer Institute) which will be hosted in beautiful Sapporo from July 12-19, 2017. The Slavic Eurasian Research Center has hosted the summer school on border studies in the past from 2010 to 2014 as part of the Global COE project "Reshaping Japan's Border Studies." Starting 2016, the border studies summer school is being hosted as part of the Hokkaido Summer Institute, which is a programme that brings together distinguished scholars and our faculty members to provide an educational experience to students from across Japan and around the world. It will allow participants to expand their knowledge on subjects previously open only to students at Hokkaido University.


This year's summer school will be a three part programme including series of lectures and the SRC summer symposium and the focus of the first half of the lectures will be on North America and East Asia while the second half will be on Northeast Asia. There will also be an excursion to the local Ainu (indigenous people of Hokkaido) village and museum. Participants will be asked to attend all of the above as part of the Border Studies Summer School and those who complete the programme will be issued a certificate of completion on the last day of the summer school.


We will also be giving out scholarships to students who meet the criteria. Please click and download the following PDF file regarding the details of the application procedures as well as how to apply for the scholarship.
Border Studies Summer School Online Registration ⇒ http://src-hokudai-ac.jp/Registration/SummerSchool/