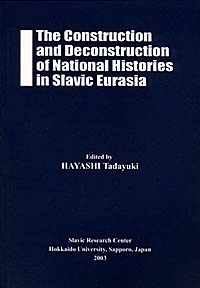 HAYASHI Tadayuki

, ed.,

The Construction and Deconstruction of National Histories in Slavic Eurasia

, Proceedings of the July 2002 International Symposium at the SRC (Sapporo: SRC, 2003), 365 pp. In English.

Contents: Foreword;

V. Buldakov

, Attempts at the "Nationalization" of Russian and Soviet History in the Newly Independent Slavic States;

A. Kappeler

, The Russian Empire and Its Nationalities in Post-Soviet Historiographies;

V. Shnirelman

, Fostered Primordialism: The Identity and Ancestry of the North Caucasian Turks in the Soviet and Post-Soviet Milieu;

H. Abramson

, The End of Intimate Insularity: New Narratives of Jewish History in the Post-Soviet Era;

Nagayo S.

, The Paradox of Slovak Historiography: The Case of the Slovak State, 1939-1945;

T. Glanc

, Method, Message and Manipulation: Remarks on the Writing of History: Some Examples of the Reception - and Non-reception - of Narrativity in Contemporary Russian and Czech Historiography;

M. Bartlovб

, The Search for Deep Roots: Medieval Art in the Historiographies of the Central European Nations;

Kaizawa H

., The Formation of the Concept of "National Literature" in Russia and the Works of Aleksandr Pypin;

P. Karagyozov

, Slavic Nationalism: An Overview;

M. Dolbilov

, The Emancipation Reform of 1861 in Russia and the Nationalism of the Imperial Bureaucracy;

Uyama T.

, A Strategic Alliance between Kazakh Intellectuals and Russian Administrators: Imagined Communities in

Dala Walayatїnїng Gazetн

(1888-1902);

A. Frank

, Islamic Transformation on the Kazakh Steppe, 1742-1917: Toward an Islamic History of Kazakhstan under Russian Rule;

Kitagawa S.

, The Nationalization of the Islamic Organization in the South Caucasus: The Role of Islam in Making Azerbaijan's National Identity;

Shinohara T

., Communal Autonomy as a Base of Civil Society: Local Autonomy and the Building of National Culture in Bohemia in the 19th Century;

V. Paounovsky

, The Bulgarian Policy on the Balkan Countries and National Minorities, 1878-1912

Economic Development and the Environment on the Sakhalin Offshore Oil and Gas Fields (7)

, SRC Occasional Papers, No. 90 (Sapporo: SRC, 2003). In Japanese.

The Sino-Russian "Strategic Partnership" ; Current Views from the Border and Beijing

, SRC Occasional Papers, No. 91 (Sapporo: SRC, 2003). In Japanese, Chinese, Russian and English.

Integration of Russia and the CIS Countries into the World Economy: Statistical and Accounting Issues

, SRC Occasional Papers, No. 92 (Sapporo: SRC, 2003). In Japanese and Russian.

Nominal List of Researchers in the Field of Slavic Eurasian Affairs (7th edition)

(Sapporo: SRC, 2003). In Japanese.

Quest for an Entire Picture of B. Piisudski's Far Eastern Indigenous Studies

(Sapporo: SRC, 2003). In Japanese, English and Russian.