Annual Newsletter of the Slavic Research Center, Hokkaido University

SRC Home

No.12 , December 2004

back to INDEX>>
Essays
---

Commemorative Lecture and Farewell Party for Professor INOUE Koichi's Retirement
---
Professor INOUE Koichi retired on March 31 of this year. Prof. Inoue came to the SRC from the Faculty of International Relations of Chubu University in 1994 and served as Director of our Center from 1998–2000. Including his time as an Assistant in the Northern Cultures program of the Faculty of Letters from 1975–1983, he has spent a total of 18 years working at Hokkaido University.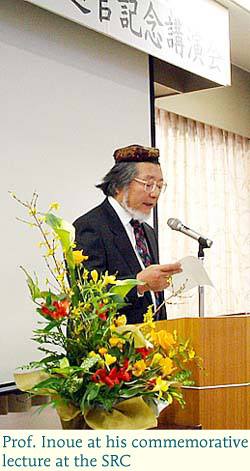 Prof. Inoue has conducted fieldwork on reindeer herding groups in Siberia and, in addition to Siberian ethnography, has also researched in a wide range of other areas including the history of ethnography, Uralic studies, ethnicity, and Ainu studies. Looking at his CV, it is noticeable that many of his publications date to after his arrival at the SRC and the last ten years can be seen as a very productive period for Prof. Inoue. Prof. Inoue was also the first tenured faculty member to be a cultural anthropologist and he opened new doors in cooperative research at the SRC. All of the SRC staff also fondly remember the visits by the many overseas scholars who were invited by Prof. Inoue.
In order to commemorate Prof. Inoue's retirement and his move to a new position at Kansai University of Foreign Studies, a special lecture and farewell party were held on March 19. In his talk entitled "Forty Years in Bronislaw Pilsudskii's Footsteps: With Special Reference to His Stay in the Far East," Prof. Inoue showed us his great knowledge of Pilsudskii, a topic which has been one of his favorite subjects of research. One had the impression that Pilsudskii's "Draft Regulations for Ruling the Karafuto Ainu" will provide materials for new cooperative work on the rule of minority peoples under the Russian empire. We also look forward to the completion of Prof. Inoue's life work, a critical biography of Pilsudskii.
At the farewell party at the Aspen Hotel, participants from the fields of research on Pilsudskii (and wax recordings), from Ainu studies, and from the Karafuto Ainu Association swapped enjoyable stories and remembrances of Prof. Inoue. The more than 50 participants came from a range of generations and one again realized that Prof. Inoue is loved and appreciated by young researchers as well as his older friends.
We will miss daily encounters with Prof. Inoue's unique character — symbolized by his pipe and Uighur hat. Prof. Inoue will, however, return regularly to Sapporo and we will no doubt have further opportunities to receive his advice. Due to staff reductions it will be difficult to directly replace Prof. Inoue's post, but with his cooperation we hope to continue the field of cultural anthropology at the SRC.
UYAMA Tomohiko
---