Essays by Foreign Fellows
---
SRC Summer Symposium in 2000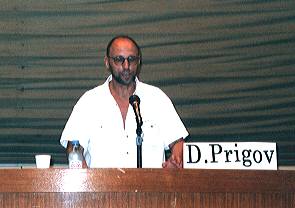 Dmitri Prigov (poet)
The SRC 2000 Summer International Symposium "Russian Culture on the Threshold of a New Century" was held from the 12th to the 15th of July. As the title shows, the program, which consisted of an opening forum and eight sessions, was designed for discussion about the specificity and problems of Russian culture in transition.
In pursuit of this rather "unprecedented" SRC project, about 130 specialists on various fields from Japan and abroad gathered in Sapporo. In the Opening forum the poet Dmitri Prigov (Moscow) recited his unique meta-poetry, which was followed by a dialogue on Russian culture by German and Japanese cultural semioticists, Karl Eimermacher and Masao Yamaguchi, representing the Western and Eastern points of view.
The papers were divided into eight sessions: "The New Paradigm of Russian Culture," "Possibilities of the Novel," "Various Aspects of Contemporary Russian Music," "Visual Art and Culture," "Words in Performance," "Literature in the New Informational Environment," "Symbolism and the Philosophy of Language," and "Russia and Asia." In all twenty two papers were read by specialists from six different regions of the world (see the program).
In spite of the difficulty of acquiring a total view of any contemporary culture, the symposium helped us realize certain crucial points for our thinking about present-day Russia. For example, several papers touched upon the traditional question of Russia's identity crisis between Europe and Asia, which eventually leads to the questions such as "what is Asia?" or "what's the relation between physical and psychological borders?" Especially in the final session we got a strong message that Russia and Asia have to know each other better.
The radical change in the economic system has influenced the culture crucially. Through the sessions on "the new paradigm" as well as on "visual art," we could realize how seriously the changes on the material level are influencing the mental structure of cultural behavior.
One more interesting point is the significance of the new informational environment for art and culture. The papers concerning new media informed us of specific potentialities of the literature on net ("seteratura" as they put it) as well as the new kind of problems caused by such an environment.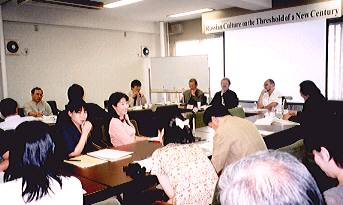 A Scene from Session 1
The writer Vladimir Sorokin (Moscow), who is a plaintiff in a copyright infringement case on the web, also gave comment on this problem.
Generally, the symposium offered a remarkable opportunity to become acquainted with specialists of various backgrounds – Alexander Genis from Radio Liberty, Peeter Torop from the University of Tartu, and Vladilen Arsen'ev from NTV-kino, to mention only a few. It also made manifest that the young scholars of the post-Perestroika generation, including many Japanese scholars, are acquiring their own concepts and methodology for decoding the new Russian culture.
This very fruitful symposium promises a good future for our cooperative work in this field. The results of this symposium will be published early in the spring of 2001.

By T. Mochizuki.

I. Opening Forum July 12
Introduction: T. Mochizuki (SRC), Opening Speech: T. Murakami (Director of SRC) Recital: A Voice from Russia by D. Prigov (Poet) Coordinator: E. Vlasov (Hokkaido Intellectual Tank); Translator: Y. Yoshioka
Dialogue: Russian Culture from East and West by K. Eimermacher (Iu. Lotman Institute, Ruhr Univ.) and M. Yamaguchi (Sapporo Univ.) Coordinator: M. Numano (Tokyo Univ.)

II. Sessions July 13
Session 1 The New Paradigm of Russian Culture
Speakers: K. Eimermacher (Iu. Lotman Institute, Ruhr Univ.) "The Change of Paradigms in Russian Culture (1987-1997)"; D. Prigov (Artist, poet) "The Completion of the Four Major European Socio-Cultural Projects"; P. Torop (Univ. of Tartu) "A New Paradigm of Culture and a New Paradigm of Describing Culture: The Russian Aspect" Discussant: H. Kaizawa (Waseda Univ.) Chairperson: K. Inoue (SRC)
Session 2-1 Possibilities of the Novel
Speakers: B. Lanin (Russian Academy of Education, SRC) "Transformation of History in Modern Russian Literature"; K. Numano (Tokyo Univ. of Foreign Languages) "Toward the Creation of a New Myth: 'Women's Literature' Now"; I. Kameyama (Tokyo Univ. of Foreign Languages) "Terror against the Text or the Text of Terror: Toward the Problems of the Body in V. Sorokin's Literature" Discussant: K. Mouri (Tokyo Univ.) Chairperson: T. Mochizuki (Hokkaido Univ.)
Session 2-2 Various Aspects of Contemporary Russian Music
Speakers: M. Suzuki (Wakkanai Hokusei Gakuen Univ.) "Sergei Kuryokhin and Avant-Garde Music: 1980-90s"; M. Yasuhara (Yamaguchi Univ.) "Galina Ustvol'skaia and Russian Music"; N. Umezu (Tokyo Univ.) "Shostakovich and Shnittke" Chairperson: Y. Isahaya (Doshisha Univ.)
Session 3 Visual Art and Culture
Speakers: V. Arsen'ev (NTV-kino, Russia) "Film in Russia - 99/2000: After the Tragedy" "Television in Contemporary Russia (Two papers); S. Nishi (Ph.D in art sciences (VGIK)) "Russian Film after Perestroika" Discussant: M. Numano (Tokyo Univ.) Chairperson: F. Uda (Jochi Univ.)

July 14
Session 4 Words in Performance Speakers: K. Tateoka (Kobe Univ.) "The Transformation of Words: Theater Performance as the Alienation of the Play's Verbal Structure"; V. Gretchko (Ruhr Univ., SRC) "Avant-garde Performances of Their Language Philosophy: Presentation of Sounds"; T. Mochizuki (SRC) "Playing with the Classics: Dostoevsky in Contemporary Literature" Discussant: A. Takeda (Toyama Univ.) Chairperson: K. Kawabata (Kawamura Gakuen Women's Univ.)
Session 5-1 Literature in the New Informational Environment
Speakers: E. Vlasov (HIT, Sapporo) "On the Concept of Multimedia Commentary on Literary Texts"; V. Smolensky (Aizu Univ.) "Russian Net-Literature" Chairperson: J. Suzuki (Sapporo Univ.)
Session 5-2 Symbolism and the Philosophy of Language
Speakers: F. Osuka (Tokyo Univ. of Foreign Languages), T. Kibe (Tokyo Univ. of Foreign Languages), "Transformation of the Concept of 'Symbol' and 'Linguistic Turn' in the Philosophy of G.G. Shpet and A.F. Losev"; S. Kitami (Waseda Univ.), N. Kakinuma (Tokyo Univ.) "Foundations of the Concept of Symbol by A. Belyi and Viach. Ivanov" Discussants: V. Zhdanov (Sapporo Univ.), H. Nishinakamura (Tokyo Univ.) Chairperson: S. Sugiura (Hokkaido Univ.)
Session 6 Russia and Asia
Speakers: A. Genis (USA, Critic, Radio Liberty) "Photograph of the Soul: The Eastern Strategy in Contemporary Literature"; S. Lakoba (Abkhaz State University, SRC) "Khlebnikov and Asia"; T. Nakamura (Yamagata Univ.) "Caucasus in Contemporary Russian Literary Journals" Chairperson: T. Kimura (Kyoto Univ.)

Coming Summer Symposium in 2001


The SRC is organizing the next international symposium to be held on July 11th to July 13th, 2001. The title will be "DIVERSIFICATION of RURAL SOCIETIES in EASTERN EUROPE and RUSSIA." Further information is available at the office of Osamu Ieda (Email: ieda@slav.hokudai.ac.jp).
By O. Ieda.
---