Annual Newsletter of the Slavic Research Center, Hokkaido University

SRC Home

No.14 , December 2006

back to INDEX>>
Essays by Foreign Fellows
---
SRC Winter Symposium in 2005 (Dec.)
---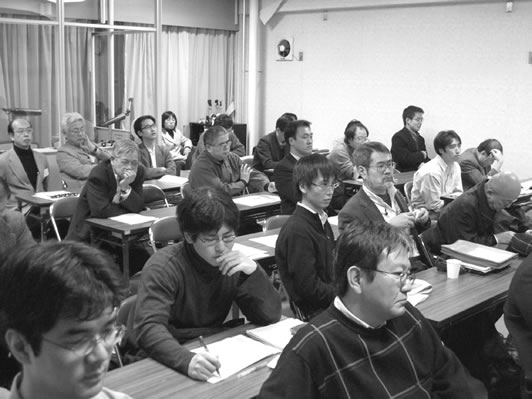 An attentive audience in the rear of the hal
On December 14-16, 2005, the SRC Winter International Symposium was held under the title, "Regions in Central and Eastern Europe: Past and Present." This meeting was mainly sponsored by the Japan Foundation, as well as one of a series of symposia for the 21st century Center of Excellence program "Making a Discipline of Slavic Eurasian Studies," which started in 2003. Eight foreign scholars were invited as speakers from universities or institutes of Denmark, Norway, Estonia, Poland, the Czech Republic, Greece and Russia with eight Japanese scholars.
The aim of this symposium was to encourage discussion on topics related to "regions" of Central and Eastern Europe, namely how these various regions, or spatial consciousness, were perceived or "imagined" internally or externally in the past; how these perceptions and imagination have changed especially in modern history; what meanings these regions will have after the enlargement of the EU. The proceedings of the symposium will be published soon.
Hayashi Tadayuki

Speakers of the Symposium
Pertti Joenniemi

(Danish Institute for International Studies, Denmark)
"Regionalisation as Europe- Making: The Case of Europe's North"



Džemal Sokolović

(University of Bergen, Norway)
"Politics and Society in the Modern Era in the Balkans: Global and Regional Context"



Koyama Satoshi

(Kyoto University, Japan)
"The Polish-Lithuanian Commonwealth as a Political Space: Its Unity and Complexity"



Jacek Purchla

(International Cultural Centre, Krakow, Poland)
"Małopolska or Galicia. Crakow' Dilemmas in Central Europe"



Jiří Vykoukal

(Charles University, Czech Rep.)
"Polish Reflection of Russia: Development and Structure"



Mitani Keiko

(Kyoto University, Japan)
"Balkan as a Sign: Usage of Word Balkan in Language and Discourses of the ex-Yugoslav Peoples"



Hayashi Tadayuki

(SRC)
"Masaryk's 'Central Europe' or 'Eastern Europe' during World War I"



Eiki Berg

(University of Tartu, Estonia)
"Where East Meets the West? Baltic States in Search of New Identity"



Shima Sonoko

(Showa Women's University, Japan)
"Dimensions and Geopolitical Diversity of the 'Baltics'"



Daniel Vojtěch

(Institute of Czech Literature, Czech Academy of Sciences)
"The 'Change in the Spirit of the Times' and the Decline of the Old World: A Czech Point of View"



Shinohara Taku

(Tokyo University of Foreign Studies, Japan)
"Historical Consciousness and Civil Ethics: Debating the 'Painful Past' and Reviving 'Central Europe' among Dissident Circles in the 1980s"



Numamo Mitsuyoshi

(University of Tokyo, Japan)
"Is There Such a Thing as Central (East) Euro Literature"



Yoshioka Jun

(Tsuda College, Japan)
"Imagining Their Lands as Ours: Place-Name Changes on Ex German Territories in Poland after World War II"



Alexander Sergunin

(Nizhny Novgorod State Linguistic University, Russia)
"Kaliningrad: Changing Perceptions"



Antonis Liakos

(University of Athens, Greece)
"Historical Time and National Space in Modern Greece"



Nakazawa Tatsuya

(University of Fukui, Japan)
"Slovak Nation as a Corporate Body"
---