Annual Newsletter of the Slavic Research Center, Hokkaido University

SRC Home

No.14 , December 2006

back to INDEX>>
Essays by Foreign Fellows
---
---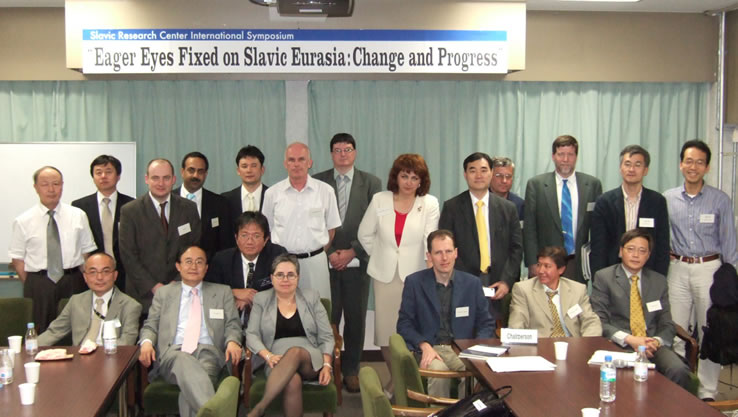 Speakers at the front of the hall
On July 6 and 7 of 2006, an annual summer symposium was held in SRC: the title was "Eager Eyes Fixed on Slavic Eurasia: Change and Progress." The symposium was mainly organized by the 21st century Center of Excellence program "Making a Discipline of Slavic Eurasian Studies," and partly assisted by the project "An Emerging New Eurasian Order: Russia, China and TheirInteractions toward Neighbors."
The aim of the symposium was to redefine the former Soviet space in international relations, paying closest attention to the "surrounding regions" around Slavic Eurasia. Wellknown specialists on the region came together in Sapporo to debate the following topics: "Russian Foreign Policy Reconsidered," "South Asia and Slavic Eurasia," "Central Asia: Crossroads in Eurasia Cooperation," "Challenge of Eurasian Border: In Case of Sino-Russian Relations," and "Russia and East Asia."
All of the sessions noted China's presence in the region. Central Asian issues and the Shanghai Cooperation Organization were mentioned in the sessions on South Asia and East Asia. Every participant recognized the crucial importance of increasing interactions in/around Eurasia.
Eighteen papers were submitted to the symposium: four from Japan, three from China, two from Russia and the US, and each one from Korea, Hungary, India, Pakistan, Uzbekistan, Ukraine, and Australia. As China is a decisive factor in the region, differences within the country should be taken into account: Chinese speakers came respectively from Beijing, Shanghai and Harbin. At the symposium, the SRC showed the will to function as a hub-center for Eurasian Studies on Northeast Asia as it forges new ties of research cooperation with academic institutions in South Asia that share common interests on the topic. I hope to invite an Iranian or Afghanistan researcher on Eurasia to the next SRC project. The SRC will release the results of the symposium in a publication of the series of "Slavic Eurasian Studies"
Iwashita Akihiro
Speakers of the Symposium
Martha Brill Olcott

(Carnegie Endowment for International Peace, USA)
"Eyes on Central Asia"



Póti László

(SRC/Institute for Strategic and Defense Studies, Hungary)
"The Rediscovered Backyard: Central Europe in the Russian Foreign Policy"



Mark Katz

(George Mason University, USA)
"Russia's Security Challenges"



Tatiana Zakaurtseva

(Diplomatic Academy, Russia)
"Current Foreign Policy of Russia"



Iwashita Akihiro

(SRC)
"Primakov Redux?: Russia and the 'Strategic Triangles' in Asia"



Nirmala Joshi

(India-Central Asia Foundation, India)
"India and Russia: Perspectives on Cooperation in Slavic Eurasia"



Fazal Rahman

(Institute of Strategic Studies, Pakistan)
"Pakistan's Evolving Relations with China, Russia and Central Asia"



Yoshida Osamu

(Hiroshima University, Japan)
"Eurasia and South Asia in Their Global Context"



Farkhod Tolipov

(The National University of Uzbekistan)
"Foreign Policy Orientations of the Central Asian states: Positive and Negative Diversification"



Sun Zhuangzhi

(Institute of Russian, East European and Central Asian Studies, China)
"Sino-Central Asian Relations and the Shanghai Cooperation Organization"



Yuasa Takeshi

(National Institute for Defense Studies, Japan)
"Japan's Multilateral Approach toward Central Asia"



Dmitri Ryabushkin

(Tavrida National University, Ukraine)
"Origins and Consequences of the Sino-Soviet Border Conflict of 1969"



Su Fenglin

(SRC/Heilongjiang Academy of Social Science, China)
"Sino-Russian Relations: Past, Present and Future Perspectives"



Neville Maxwell

(Australia)
"Nerchinsk 1689 to Vladivostok 2005 via Zhenbao 1969: The Sino-Russian Boundary Conflict"



Ha Yongchool

(Seoul National University, Korea)
"Russian Nonproliferation Policy and the Korean Peninsula"



Feng Shaolei

(East China Normal University, China)
"Russia and Contemporary East Asia"



Sergey Vradiy

(Institute of History, Archaeology, and Ethnography of Far Eastern Nations, Russia)
"Russia-Taiwan Unofficial Relations"



Yokote Shinji

(Keio University, Japan)
"Russo-Japanese Relations in the New East Asian Environment"
---