Annual Newsletter of the Slavic Research Center, Hokkaido University

SRC Home

No.14 , December 2006

back to INDEX>>
Essays by Foreign Fellows
---
Joint Seminars with the Kennan Institute, Woodrow Wilson Center (Washington D.C.) and the Davis Center for Russian and Eurasian Studies at Harvard University

---
At this time of year (November), the SRC is empty because a large delegation leaves for the United States to give papers at the AAASS annual convention, held in Washington D.C. this year. Exploiting the merits of the site, the Kennan Institute and the Davis Center kindly provided the SRC delegation with the opportunity to present part of results of the ongoing 21st century Center of Excellence program, "Making a Discipline of Slavic Eurasian Studies," on November 15 and 20 respectively. Professors Ieda Osamu, Tabata Shinichiro, David Wolff, Maeda Hirotake (at the Kennan Institute only), and Matsuzato Kimitaka gave talks based on their findings derived from the program.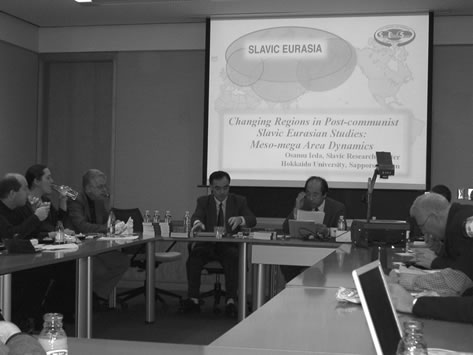 A scene from one of the seminars
Being in associative relations, however, during recent years the SRC has not developed concrete joint projects with these excellent research centers. During this visit, we began to identify future collaborations. The SRC shares interest in religions in Eurasia, to which the Kennan Institute has paid much attention in recent years. It is possible to start a Russian, American, and Japanese joint project (possibly with China's participation) with the Davis Center on immigration and the environment in the Asian part of Russia. Moreover, the valuable information the Davis Center has accumulated in the course of the Cold War international project on ethnoconfessional policies of the Soviet Union might provide a basis for the joint publication of archival sources on this matter.
Matsuzato Kimitaka
---