Annual Newsletter of the Slavic Research Center, Hokkaido University

SRC Home

No.15 , December 2007

back to INDEX>>
Essays by Foreign Fellows
---
SRC Summer Symposium in 2007

---
On July 4-6, 2007, an annual summer symposium was held at the SRC: the title was "Dirty, but Warm: Energy and Environment in Slavic Eurasia and Its Neighborhood." The symposium was mainly organized by the 21st Century Center of Excellence program "Making a Discipline of Slavic Eurasian Studies," and was partly assisted by the joint project with the Institute of Low Temperature Science "Establishment of the Network of Environmental Studies in the Pan-Okhotsk Region."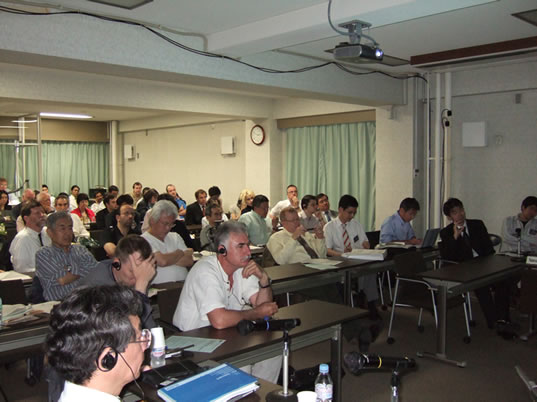 A scene from one of the sessions
The purpose of this symposium was to discuss problems concerning energy and natural environmental destruction from an academic perspective, taking into account that such problems have recently surfaced either within Slavic Eurasian areas or between Slavic Eurasian areas and their neighbors. A backdrop to these problems is Russia's rising standing as an energy power, amidst unprecedentedly high oil prices and rapidly increasing energy demands in China as well as other nations that are achieving remarkable economic development. Combining these international trends with the interests of the nations hosting pipelines, we can see flashpoints everywhere.
During the symposium, the SRC held seven sessions concerning energy and the natural environment, including "Oil and Gas Pipelines between Russia and Asia," "Oil and Gas Pipelines between Russia and Europe," "Russia as an Energy Empire," "Environmental Problems in Northeast Asia," "Environmental History and Ecosystem of Central Asia," "Pollution and the Rise of Environmental Consciousness in the Soviet Union," and "Sea and Land Security in Eurasia."
A total of twenty-one presentations were made in English and Russian during the three-day period. Every presentation session was followed by in-depth discussions among researchers from diverse professional backgrounds. As the hundred and twenty-nine participants from twelve nations, including Japan, became very excited about the quality of the discussions, the venue was enveloped in enthusiasm. The SRC will publish some of the papers in the "Slavic Eurasian Studies" series.
*This symposium was reported at Hokkaido University's site for Initiative for Sustainable Development (HUISD)
[http://www.sustain.hokudai.ac.jp/2007/08/report_symposium_on_energy_and_1.php]
TABATA Shinichiro

Speakers of the Symposium
Matthew Sagers (Cambridge Energy Research Associates, USA) "Russia's Oil and Gas Pipeline Strategies and the New Pipelines to Asia"
Ivan Arzamastsev (Pacific Institute of Geography, Russia) "The Construction of the East Siberia-Pacific Ocean Oil Pipeline"
Ito Shoichi (Economic Research Institute for Northeast Asia, Japan) "Russia's Energy Diplomacy toward the Asia-Pacific: Is Moscow's Ambition Dashed?"
Gediminas Vitkus (Univ. of Vilnius, Lithuania) "Russian Pipeline Diplomacy: A Lithuanian View"
Margarita Balmaceda (Harvard Univ., USA) "Corruption, Intermediary Companies, and Energy Security: an 'Inside Out' View of Russian Actors' Use of Energy for Policy and Profit"
Fujimori Shinkichi (SRC) "Does Pipeline Lead Ukraine to Europe? − The Fall of 'Energy-transit State'"
Marshall Goldman (Harvard Univ., USA) "Ukraine & Gazprom: Some Hard Lessons for the European Union"
Shiobara Toshihiko (Kochi Univ., Japan) "Gazprom and the Russian Government: Concerning Pipeline Policy"
Jessica Allina-Pisano (Univ. of Ottawa, Canada) "The Oil-Land Nexus: Privatization as a Path to Nationalization in the Russian Federation"
Fujita Koji (Nagoya Univ., Japan) "Ice Core, Tree Ring and Human Lives"
Morimoto Yukihiro (Kyoto Univ., Japan) "Habitat Analysis of Pelicans as an Indicator of Integrity of the Arid Ecosystems of Central Asia"
Victor Kryukov (Coordination Committee for Sustainable Development of the Amur River Basin, Russia) "Possibility of Sustainable Development of the Basin of Amur River from Ecological Viewpoints"
Sergey Maslennikov (Institute of Marine Biology, Russia) "Marine Biological Resources along the Far Eastern Coast: Their Rational Use from the Ecological and Economic Viewpoints"
Mitsudera Fumio (Hokkaido Univ., Japan) "Environmental Problems in the Pan Okhotsk Region"
Katayama Hirofumi (J.F. Oberlin Univ., Japan) "Ecological Modernization in Northeast Asia"
Donald Filtzer (Univ. of East London, UK) "Poisoning the Proletariat: Urban Water Supply and River Pollution in Russia's Industrial Regions during Late Stalinism, 1945-1953"
Ze'ev Wolfson (Hebrew Univ. of Jerusalem, Israel) "Environmental Problems in the USSR: From the 1960s through the 1980s"
Imanaka Tetsuji (Kyoto Univ., Japan) "Radioactive Contamination and Social Consequences Caused by the Chernobyl Nuclear Accident"
Sato Koichi (J.F. Oberlin Univ., Japan) "China and the Maritime Disputes: A Comparative Study of the Spratlys and Senkaku Islands"
G.V.C. Naidu (Institute for Defense Studies and Analyses, India) "India and Security of the Eurasian Outer Rim Region"
Mohammad Hassan Khani (Imam Sadiq Univ., Iran) "Energy and Security Arrangements in Eurasia: An Iranian Perspective"
---