Essays by Foreign Fellows
---
The Library
The Hokkaido University Library System was upgraded in March 1999. One of the benefits of the new system is a quicker and more sophisticated version of the Online Public Access Catalog (OPAC). Prior to the upgrade, although equipped with an English interface, all locations were indicated in Japanese kanji and kana characters, therefore it was not much use for foreigners who were unfamiliar with Japanese. The new OPAC presents not only bibliographic but also other information in English, including the SRC's collection. Throughout the new system's development, the SRC's library staff cooperated closely with the University Library.
The new OPAC's URL is as follows: http://www.lib.hokudai.ac.jp/opac/
For other libraries in Japan, a list of OPACs is available from the following site: http://ss.cc.affrc.go.jp/ric/opac/opacE.html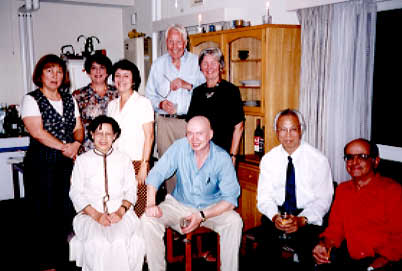 Our "International Brigade" is the strongest in the World!
rear,from left: Katia,Carol,Isabel,Robers and Cynthia;
front,from left:Meiling,Igor',Kuili,and Paul
---