Annual Newsletter of the Slavic Research Center, Hokkaido University

SRC Home

No.13 , February 2006

back to INDEX>>
Essays by Foreign Fellows
---
---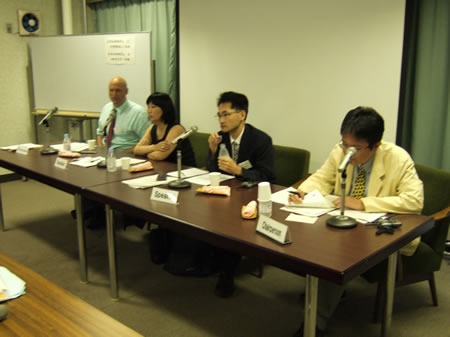 A scene from one of the sessions
The annual Summer International Symposium was held on July 7-8 under the title "Regional and Transregional Dynamism in Central Eurasia: Empires, Islam and Politics." It was funded mainly by the 21st century Center of Excellence program "Making a Discipline of Slavic Eurasian Studies," and partly assisted by the project "Comparative Research on the Roles of Intellectuals in Modernization of Central Eurasia." In recent years, a number of papers on Central Eurasia have been presented at SRC symposia, but this is the first time an entire symposium has been dedicated to Central Eurasian studies.
The main focus of the symposium was on the interaction between internal (regional) and external (transregional) dynamics. Central Eurasia is a bridge between various parts of Eurasia, but at the same time, it has diverse regional characteristics, and the countries that gained independence from the Soviet Union have emphasized their sovereignty and national specificities. We examined these dual dynamics by discussing such themes as Muslim intellectuals, the rule of the Russian Empire, mass deportations, Islamic revival, political regimes, and state borders.

Nine foreign scholars from Kazakhstan, the USA, Russia, Uzbekistan, Armenia, Georgia, and six Japanese scholars presented their papers. Some papers were read in Russian and translated into English simultaneously. The conference room was crowded with about 115 participants, and they (especially young Japanese scholars) joined the discussions very actively. The papers will be published in a book of the Slavic Eurasian Studies series.

After the International Symposium, on July 9, the SRC hosted a symposium of the Japan Consortium for Area Studies under the title "Quest for New Methods of Area Studies: Mechanisms of Formation and Changes of Regions," which consisted of three sessions: "New Eurasia: integration and identities," "Toward a structural understanding of the dichotomy 'mountains vs. plains' in Southeast Asia," "Relations between Japan and Latin America in the age of globalization and regional integration" (all in Japanese). Eight foreign guests of the International Symposium also participated in a workshop at the University of Tokyo on July 10-11.

UYAMA Tomohiko

Speakers of the Symposium
Adeeb Khalid (Carleton College, USA)
"The Fascination of Revolution: Central Asian Intellectuals, 1917-1924"
Mambet Koigeldiyev (Institute of History and Ethnology, Ministry of Education and Science, Kazakhstan)
"The Alash Movement and the Soviet Government: Difference of Positions"

KOMATSU Hisao (The University of Tokyo, Japan)
"Dar al-Islam under Russian Rule as Understood by Turkestani Muslim Intellectuals"
Elza-Bair Guchinova (Institute of Ethnology and Anthropology, Russian Academy of Sciences)
"Deportation of the Kalmyks (1943-56): Stigmatized Ethnicity"
HANYA Shiro (The University of Tokyo)
"Nationalities Policy in the Brezhnev Era: The Case of Deported Nations"
Alexander Markarov (Yerevan State University, Armenia)
"Regime Formation and Development in Armenia"

Dosym Satpayev (Assessment Risks Group, Kazakhstan)
"An Analysis of the Internal Structure of the Political Elite in Kazakhstan and the Assessment of Levels of Political Risk"

George Sanikidze (Institute of Oriental Studies, Georgian Academy of Sciences, Georgia)
"Islamic Resurgence in the Modern Caucasian Region: 'Global' and 'Local' Islam in the Pankisi Gorge"
Ashirbek Muminov (Tashkent State Institute for Oriental Studies, Uzbekistan)
"Fundamentalist Challenges to the Local Islamic Traditions in Soviet and Post-Soviet Central Asia"
SUGAWARA Jun (Aoyama Gakuin University, Japan)
"The 'Revitalization' of Risale: Islamic Folk Publications in Modern Xinjiang"
NAGANAWA Norihiro (The University of Tokyo, Japan)
"Maktab or School? Introduction of Universal Primary Education among the Volga-Ural Muslims"
Margaret Dikovitskaya (Library of Congress, USA)
"Russian Colonial Attitudes and Visual Culture: Central Asia in Early Photography"
UYAMA Tomohiko (SRC)
"A Particularist Empire: The Russian Policies of Christianization and Military Conscription in Central Asia"
Sergey Golunov (Volgograd State University, Russia)
"Drug-Trafficking through the Russia-Kazakhstan Border: Challenge and Responses"
OKA Natsuko (Institute of Developing Economies, Japan)
"Transnationalism as a Threat to State Security? Case Studies on Uighurs and Uzbeks in Kazakhstan"
---