2010 SRC Summer Symposium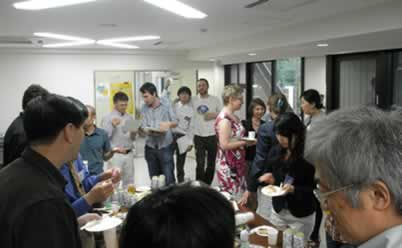 A scene from the beer party after the first days session (July 7, 2010)
The 2010 SRC summer symposium "Orient on Orient: Images of Asia in Eurasian Countries" was held from July 7 to 9 in the SRC conference room. This time, the symposium was organized and mainly sponsored by group 6 "Culture" of the comparative research project "Major Regional Powers in Eurasia" (main organizer: Mochizuki Tetsuo; secretaries: Koshino Go, Goto Masanori, Inoue Takehiko).
The main idea of the symposium was to study the cultural images of Asia in Eurasian countries and compare them with each other. For this purpose, seven sessions were designed and the participants enjoyed really exciting discussions centered around twenty-one papers by scholars from eight different countries (the number of panelists was thirty-six, and the total number of participants was a hundred and sixteen).
Among other things, we were impressed by the following observations:
There is a quite impressive difference among the big Eurasian countries (Russia, China, India) in terms of the peoples' sense of the "Asianess" of their own countries.
With the spread of mass culture or copy culture, images of Asia are becoming more and more stereotyped and commercialized in each country.
The relationships between the images of Asianess on the one hand and gender and class images on the other are quite intricate.
It was also a big discovery that very deep study of Orientalism has been conducted in the field of musicology.
After the symposium, most of the guests from abroad traveled to Kyoto and participated in another satellite program "Another Eurasia" (July 14, Doshisha Univ.)
The results of the symposium will be published in the first half of 2011.
The program for the symposium can be found at this web page.
MOCHIZUKI Tetsuo