Global COE Program "Reshaping Japan's Border Studies"
The global COE program "Reshaping Japan's Border Studies," approved in July 2009, has made significant achievements this year. The outcomes can be classified into four areas.
1) Publishing journals
The GCOE edited and published two border-related journals,『境界研究』[Kyoukai- Kenkyu] and Eurasian Border Studies (EBR). The first issue of Kyoukai-Kenkyu features China-Japan border issues, which coincidentally became a hot topic due to the Senkaku boat collision incident. EBR is a specialized journal on Eurasian border issues and thanks to rush submissions from around the world, the second issue is forthcoming in the spring. These journals are freely downloadable from our website (www.borderstudies.jp/en).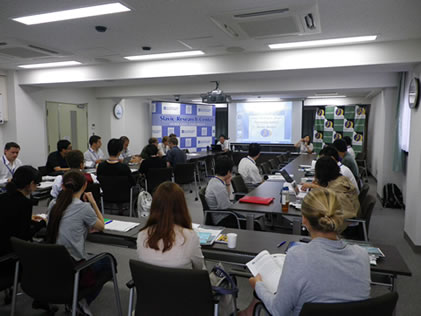 Young researchers' summer program
2) Organizing a border studies network in Japan
Sponsored by the Sasakawa Peace Foundation, we organized two forums, the "Tsushima Borderlands Forum" (Nov. 12–14, Izuhara) and "Toward Networking with World Border Studies: Japan's Borders in Global Perspective" (Dec. 6, Akasaka). These forums aimed to bridge academia and practice and to involve researchers and practitioners in the border study network, as well as making internal and external comparison of border issues. This is also an important step for raising the appeal of worldwide conferences such as BRIT 2012.
3) Supporting young researchers
The GCOE SRC summer program "Bridging the Borderlands Studies between East and West" took place from July 27 to August 4. We had participants from various countries including Canada, UK, Australia, Finland, Russia, China, India, and Macedonia. The lectures of the first week of the program consisted of talks on Japan's borders and border issues, migration in Central Asia and Russia, and border issues in Central Europe. The second week comprised talks on borders in East and South Asia and non-traditional security issues including piracy. All the lectures were in English and a certificate of completion was issued. We also supported young researchers in conducting their surveys abroad as well as their attendance at international conferences such as ABS.
4) Contributing to society
This year, we produced three exhibitions at Hokkaido University Museum: "Unknown Borders of the Northern Borders" (Dec. 2009 – May 2010), "Sea Front of Eurasia: Southwestern Borders of Japan" (May 2010 – Nov. 2010), and "The Yagui People and the Border" (Nov. 2010 – Feb. 2011). Serial seminars were held along with the exhibitions. The exhibitions and seminars were open to the public and attracted many citizens. Their contents were displayed in Kushiro, Fukuoka, Izuhara, Kamitsushima, and Naha as a traveling exhibition.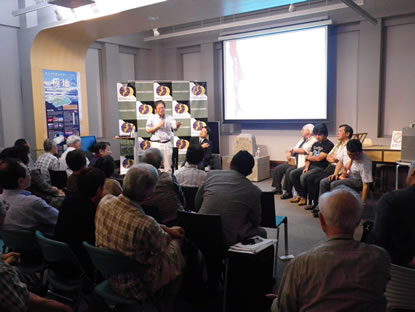 Seminar at Hokkaido University Museum
An international symposium held on Dec. 4, 2010, which was the second international winter symposium of the GCOE program, "De-Areanization of Border Studies: The 'Greater Eurasia' and Its Neighbors" was held in the Slavic Research Center conference room. Following the structure of the previous symposium, the first global COE symposium "First Contact: Bringing Together the Worldwide Community of Border Studies" (Dec. 18, 2009), the sessions were divided into three parts: a theoretical part, a luncheon seminar, and topics specific to border studies. Simultaneous interpretation was also provided to the audience and many citizens interested in border issues enjoyed the programs. Prior to the symposium, the GCOE program organized a "young researchers' workshop" and young researchers from Russia, India, Italy, and Japan made border-related presentations. The variety of their topics and areas covered is a characteristic of border studies.
FUJIMORI Shinkichi